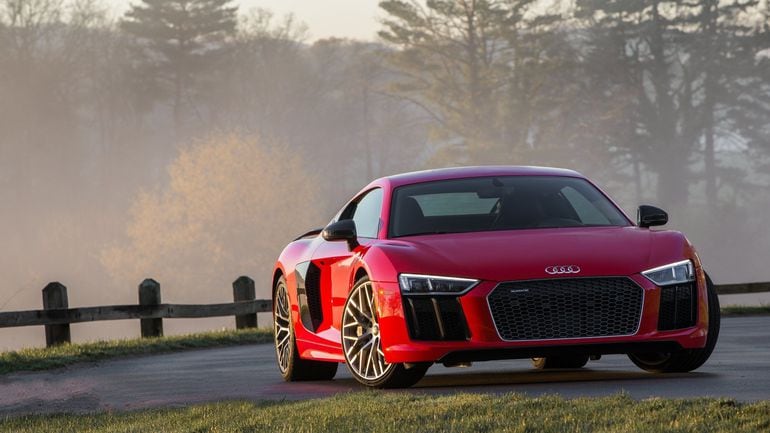 2017 Audi R8: Accellertaion that blurs the fine line between joy and thrill.
People work a lifetime to perfect something that takes a few seconds—or even a few hundredths of a second—off a 0–60 time. With the
all-new R8
, we see the culmination of a vision started by famed Audi engineer Jörg Bensinger, the mastermind behind the design and development of quattro® all-wheel drive. Working off the concept he helped put into production, we've further honed its capabilities so now, it emulates the power characteristics of a rear-wheel drive vehicle, but has the unique ability to send up to 100% of its available torque to the front axle when driving conditions dictate it. It's a new wrinkle that incorporates the electronically-controlled hydraulic multi-plate clutch, the addition of torque vectoring and quattro integration within the Audi drive select system.
An Expression of Style. A Statement of Your Identity.
In a sense, this is design stripped to its elemental essence. We strip away weight to hone a strong, substructural chassis that relies on aluminum, carbon and other innovations to carry the performance of a supercar. This ASF® multi-material space frame is a new application of the iconic ASF chassis. It lessens the static and dynamic weight of the vehicle, and increases rigidity by 40 percent for a more dynamic drive. It's structural engineering that helps build soul.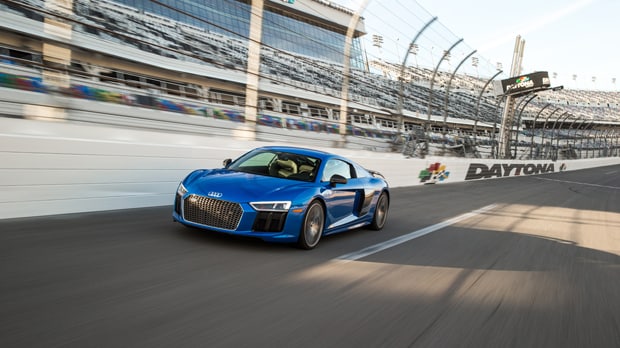 Audi exclusive provides you with a great variety of options for making your R8 truly yours—you can choose from more than 80 paint colors, including five matte finishes, as well as 17 shades of Fine Nappa leather for your seats, trims and contrast stitching. Audi exclusive gives future owners a chance to put a true, personal statement on their new R8.
Audi Racing Heritage
We always think about how we can add track performance technology to the road. In the case of the Audi R8, you can also envision the road car winning on the track. That's because the Audi R8 LMS—our winning GT3 racecar at the Rolex 24 at Daytona, developed at the same time—shares around 50% of its component parts with its road-legal sibling. How the collaboration between track-shredding race engineering and thrilling sport driving impacts the joy of your commute is best left to your imagination—until you drive there.
Age Before Beauty
Audi vehicles are made by committed craftsmen, but, like the R8 itself, there's a best among the best. That means it takes years, specialized training and an elevated sense of patience before a select few can join the R8 line. It's a painstaking job that's not for everyone. And that's the point.
Craft is a Lifelong Pursuit
The body of an R8 is a complicated, involved skeleton. By employing innovations like a Resin Transfer Molding process, it allows for enhanced design flexibility for carbon fiber construction. But it also features a two-stage manufacturing process that takes into account the different thermal expansions of aluminum, carbon fiber and resin. Without these time-consuming, precise processes, the craftsmanship you find inside the R8 wouldn't be so timeless.
quattro® All-Wheel Drive
Performance driving isn't about the engine alone. In the Audi R8, we couple raw power with sculpted performance by incorporating complementary technologies — quattro® all-wheel drive and our S tronic® dual-clutch transmission.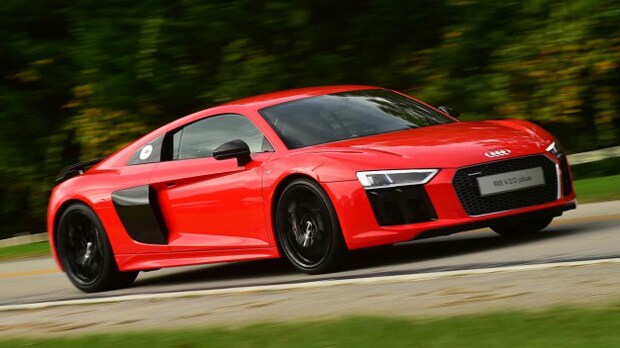 Nature finds a way. Engineering takes notes. Watching certain animals pivot and accelerate helped us develop a new application of quattro® all-wheel drive, for the all-new R8. With this new electronically controlled hydraulic multi-plate clutch, you have the performance advantages of a rear-wheel drive vehicle, but with the ability to send up to 100% of available torque to the front axle, depending on the driving situation. This is a seamless application of technology, the performance of torque vectoring and quattro® integration within the Audi drive select system.
For more info on the 2017 Audi R8, or to book a test drive with
Town Audi
, be sure to
contact us
today at
(877) 642-4905
.