Audi is constantly striving to improve their technology and available options in their vehicles. With changing trends in the auto industry, Audi released the e-tron and e-tron Sportback, fully electric SUV models. Audi recently made another huge announcement, but this time with a hybrid model. The first-ever Audi Q5 plug-in hybrid (PHEV) arrives to the US and at Town Audi this year! The new Q5 PHEV provides for a ride never before seen in the Q5 SUV. The Q5 PHEV is environmentally friendly, stylish, and actually faster than the Q5. This model is sure to put a smile on your face and the environment. We may have to wait to try out the Q5 PHEV until later in the year but let's take a look at what we already know!
Electrified Performance
The new Audi Q5 PHEV improves upon already beloved features including performance. In the engine bay, you will find the traditional TSFI gasoline engine, referred to as the "TFSI e" in plug-in hybrid models. The TSFI engine is a 2.0-liter four-cylinder engine that combines with the electric motor to produce a manufacturer estimated 362 horsepower and 369 lb-ft of torque. This hybrid engine is paired to a seven-speed S-Tronic dual-clutch automatic transmission. The Q5 PHEV also features the standard quattro all-wheel drive. This powertrain propels the Q5 PHEV from 0-60 miles per hour in 5.0 seconds, which is almost a full second faster than the base Q5. The Q5 PHEV is a truly exciting vehicle that will allow you the power and handling you need for any adventure.
Charging the Q5 PHEV
The Audi Q5 TFSI e is comes standard with a compact charging system and can be charged at any SAE J1772 charging station. The vehicle charging system includes cables for charging at home and on the go so you're covered from day one with no additional purchases. Similar to the fully electric Audi e-tron, the Audi Q5 TFSI e connects to plug-in specific applications on the myAudi app. The myAudi app has a collection of very helpful features like showing you how long until the vehicle is fully charged, scheduling an electrician for any at home charging issues, and preconditioned functions for optimal vehicle efficiency.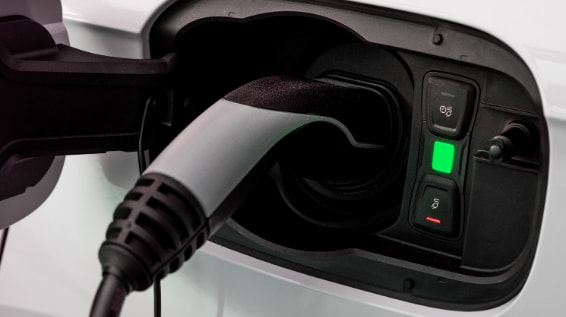 Driving Modes
The Q5 PHEV offers drivers three different driving modes to choose from. Drivers can select from Hybrid Mode, EV Mode, and Battery Hold Mode. The Q5 PHEV automatically starts in EV mode. With EV mode, the vehicle uses only the battery, as long as the accelerator is not pressed beyond a certain point. The EPA estimates a 20-mile range of electric-only driving. When you use ­­the MMI navigation system, Hybrid Mode is automatically activated. The Q5 optimizes the battery power and reduces fuel consumption based on various factors found on the route you enter into the navigation system. If you wish to control the vehicle's battery usage you can do so with Battery Hold. Battery Hold allows drivers to hold battery capacity at current levels in order to use it at a later time.
Interior & Exterior Options
Owners of the Q5 PHEV will be able to choose from multiple exterior color options, including two exclusive colors, Turbo Blue and Daytona Gray, exclusive to the Q5 PHEV and SQ5. The Q5 PHEV comes equipped with standard S line exterior elements and badges. Customers can also choose from 19-inch contract gray wheels or 20-inch bi-color wheels. These options allow drivers to adapt the vehicle to their unique tastes. Customers will have all the same interior options as the SQ5.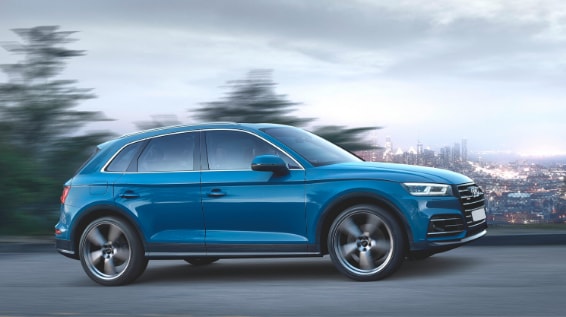 Get the Q5 PHEV at Town Audi
You can purchase your own Q5 PHEV at Town Audi soon! If you're interested in learning more about this new model or placing an order, please contact us at 877-642-4905 today! Here at Town Audi we have over seventy years of experience fulfilling automotive dreams. We are here to help you get into your new Audi! We invite you to browse our new inventory or pre-owned inventory online, and come check out our current inventory in person. You can also take advantage of our lease and finance specials. At Town Audi, we proudly serve Queens, Bronx, Northern, NJ, and Englewood, NJ. We hope to see you soon!