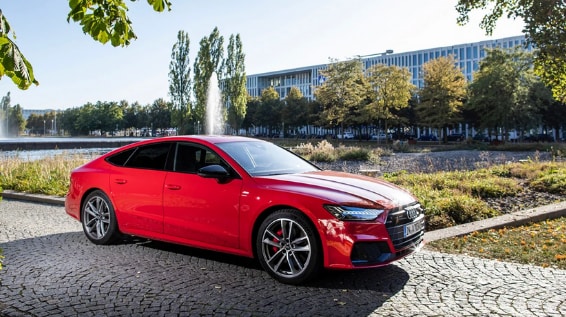 Since their conception Audi has always been a leader in innovation. From the creation of the quattro four-wheel-drive system to the introduction of their fully electric e-tron lineup, Audi has led the way in automotive technology and performance. Now, Audi is taking another step forward in innovation and improvement with the introduction of the 2021 Audi A7 55 TFSI® e plug-in hybrid. This all-new hybrid electric model will be released later this this fall and we're eagerly awaiting its arrival here at Town Audi. The new A7 specifications and upgrades have all been released and we've complied them all right here. Continue reading to find out everything we know about the upcoming 2021 PHEV A7!
Interior & Technology Updates
The 2021 Audi A7 e plug-in hybrid will come standard with the Premium Plus interior package and can even be upgraded to the Prestige trim level. The interior of the A7 is pure luxury, with a multitude of options to ensure the driver is comfortable and enjoys their driving experience. From heated seats to soft-closing doors, to dual-pane acoustic glass, the interior of the A7 e plug-in hybrid features a wide range of brand new options. The 2021 A7 e plug-in hybrid also comes with adaptive cruise control and active lane keep assist. All of the bells and whistles in the new A7 are housed in Audi's latest MIB 3 infotainment for maximum connectivity and control.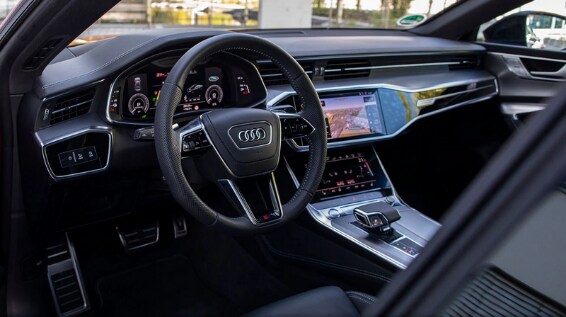 Captivating Sportback Design
The 2021 Audi A7 e plug-in hybrid will come standard with the S line exterior package. The S line package is a unique package from Audi with specific front and rear designs, fender badges, and illuminated door sill inlays. Also included in the exterior features are Audi's famous LED headlights, 20-inch Audi Sport twin arm wheels with all-season tires. Some Audi enthusiasts may notice there is a top view camera with a 360 view carefully installed so as not to impede the aerodynamics of the car.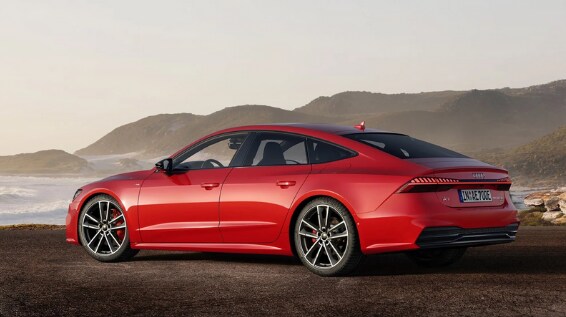 Electrified Performance
The new Audi A7 e plug-in hybrid has a turbocharged 2.0-liter four-cylinder TFSI engine with an electric motor assist and a 7-speed S-tronic dual-clutch automatic transmission. This combination yields 362 horsepower and 369 lb-ft of torque. This power is distributed through the quattro all-wheel-drive system through the use of Audi's ultra® technology giving the driver an unrivaled driving experience.
There are three driving modes that are unique to the A7 e plug-in hybrid – the hybrid mode, the EV mode, and the Battery Hold mode. Each mode utilizes a unique engine & battery ratio to give the driver the option to adjust power & efficiency to their driving conditions and preferences. In addition, the TFSI engine will deactivate when the driver is not using the accelerator. The combustion engine will then kick in and restart seamlessly when the driver needs to accelerate.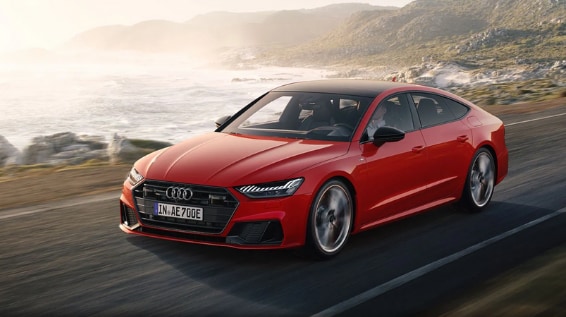 Get the 2021 Audi A7 PHEV at Town Audi
The all-new 2021 Audi A7 55 TFSI e Plug-in Hybrid is leading the charge when it comes to luxury electric cars by providing an unprecedented level of driver control, power, and performance. This all-new A7 model will be available at Town Audi this fall! If you are interested in learning more or reserving your model now, please contact our Town Audi team today. If you are currently in the market for a different Audi model, we encourage you to view our new inventory, pre-owned inventory, or certified pre-owned inventory on our website. You can call us at 877-642-4905 to schedule an appointment or visit our showroom at 400 S. Dean St. in Englewood, New Jersey today! We look forward to assisting you!